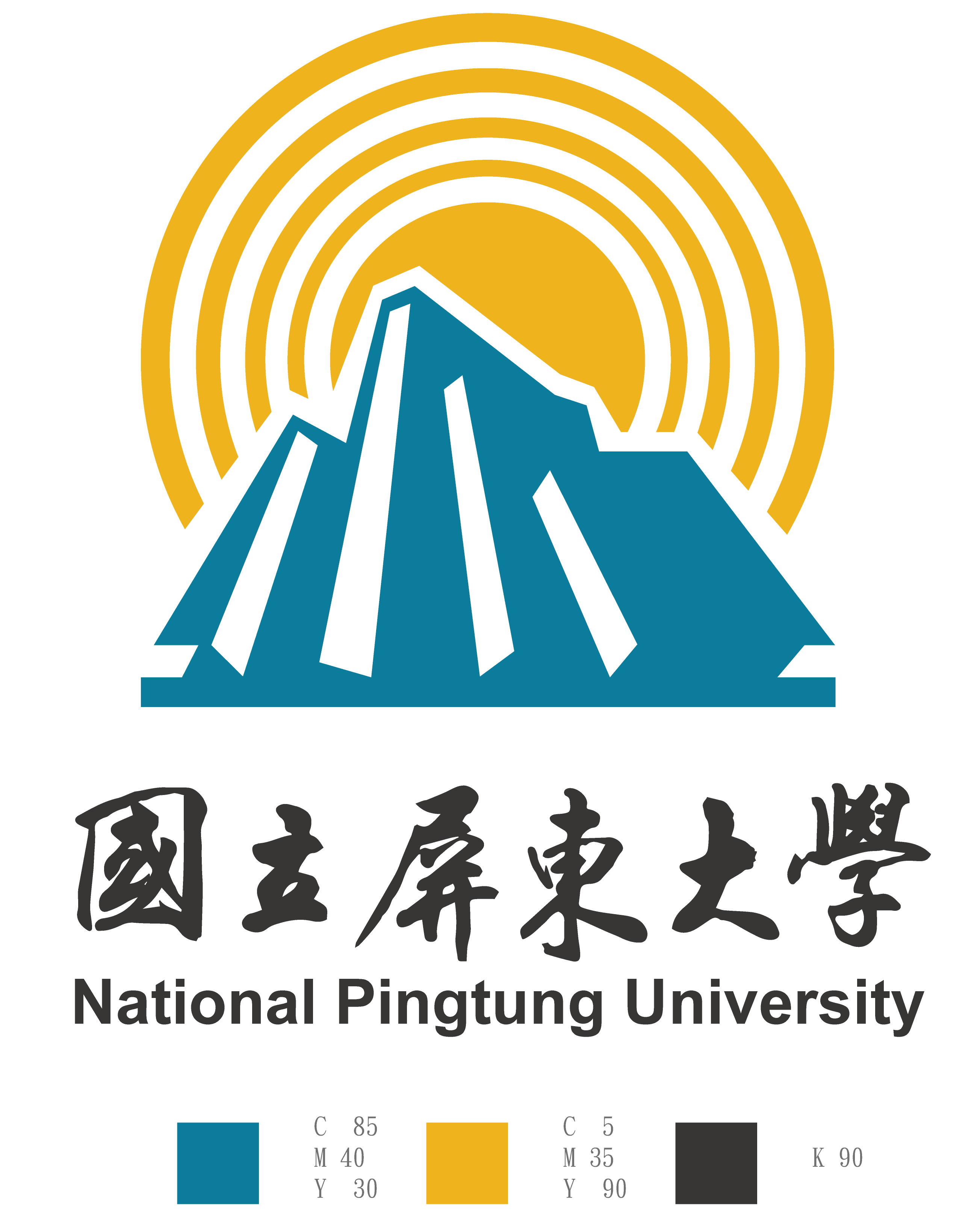 (Click to see large picture)
Concepts in Designing the School Emblem of National Pingtung University (NPTU)
1. Located in Pingtung City, Pingtung County, NPTU is in the east side of the Dawu Mountain Range, a main mountain range south of the Central Mountain Range and the west side of "Hsiatamsui River" (also called Gaoping River"). Pingtung County is in the subtropical zone with sunshine all year round. Pingtung City is commonly called "The Sunny City" or "The Heat Capital". The upper section of the school emblem is a round sun rising from the summit of a mountain with four arcs to represent the image of "the rising sun". It also symbolizes NPTU is like a rising sun for a new era in higher education in the Pingtung area after the merger.
2. The lower section of the school emblem is "high as mountains and long as rivers" based on the shape of the four books. The four books facing the sun and gathering together with a triangular mountain shape as the background contain the meanings of "knowledge like mountain " and "interdisciplinary". People also get to associate the four books (with the number of four) and the round sun (one plus four equals five) with the Four Books and Five (Confucian) Classics in the old times.
3. The four books also have meanings relating to the main mountain ranges in Pingtung County: "North Dawu Mountain", "South Dawu Mountain" Wutou Mountain", and Lilung Mountain" from Central Mountain Range. They also symbolize how NPTU make efforts in collaboration in industry, government, university and research.
4. The horizontal and blank lines at the bottom of the school emblem represent rivers and the ocean in Pingtung County with the long and narrow coastline in Pingtung County. The main river, the Tamsui River alleviates Pingtung Plain to make Pingtung a place with mountains and water. It indicates NPTU will develop steadily in an environment with exquisite nature and rich in humanities. With the histories of the two former schools (National Pingtung University of Education and National Pingtung Institute of Commerce), the merger is bound to generate multiple effects which is like rivers flowing into the ocean, vast and profound.
5. With yellow orange and blue colors in the school emblem, it implies the two schools are complementary to each other since yellow orange and blue are complementary colors in color science. The yellow orange color symbolizes "the rising sun", with the meaning of passionately seeking excellence. Blue color indicates "high as mountains and long as rivers", with the meaning of reasoning and steady growth. The combination of the two colors has the extended meaning of cooperation between students and teachers with constant changes to make a promising prospect
Principles of Using NPTU School Emblem
Please maintain the colors and shapes of the school emblem without making any changes. Other than the designated one, divisions using the school emblem in different occasions and propaganda with different colors, width and curve of lines, and ratio are required to redo it.
(Data Provider:Office of the Secretariat 資料提供單位:秘書室)