Brief History of National Pingtung University
National Pingtung University of Education and National Pingtung Institute of Commerce officially merged and became National Pingtung University (NPTU) on August 1, 2014.
NPTU offers multiple educational tracks including higher education, teacher preparation, and vocational and technological education, allowing for interdisciplinary learning opportunities. Through the integration of its facilities and resources, NPTU aims to advance the faculty's teaching and research capabilities and enhance our students' global competitiveness by offering greater student learning resources and career development skills in order to empower students and faculty to achieve competitiveness and sustainable development.
National Pingtung University will utilize its resources to provide services to local industries and implement industry-academia cooperation with the goal of "giving back to the place what has been taken from it," so as to benefit teachers, students, industries, society and the country and give Pingtung a bright future.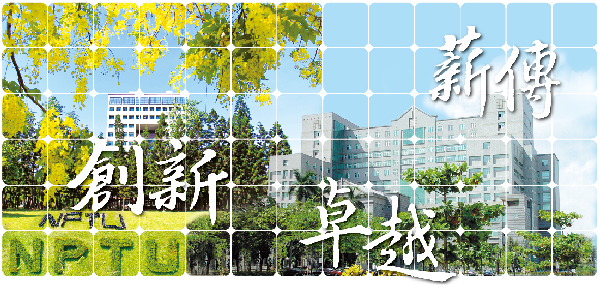 Timeline of School Merger

| Date | Event |
| --- | --- |
| May 19, 2005 | On May 19, 2005, the University Council created a resolution establishing the future merger of National Pingtung University of Education (NPUE) and National Pingtung Institute of Commerce (NPIC). |
| October 23, 2008 | The Ministry of Education held a meeting entitled "Deliberating the Merger of National Pingtung Institute of Commerce with National Pingtung University of Education or National Pingtung University of Science and Technology." |
| February 3, 2009 | The Ministry of Education held a second follow-up meeting on "Deliberating the Merger of National Pingtung Institute of Commerce with National Pingtung University of Education or National Pingtung University of Science and Technology." |
| January 18, 2011 | National Pingtung Institute of Commerce agreed to form a special planning committee to discuss possibilities in regard to merging with nearby schools as stipulated in the University Council's resolution,. |
| March 24, 2011 | On May 19, 2005, the University Council of National Pingtung University of Education voted unanimously in support of the resolution to proceed with the merger process between itself and National Pingtung Institute of Commerce. |
| April 20, 2011 | National Pingtung Institute of Commerce finished its report entitled "A Study on the Merger with Nearby Schools." |
| June 14, 2011 | National Pingtung Institute of Commerce held a school-wide vote with a turnout of more than 90%. Among those who voted, 76.43% of the faculty members (including military training officers and nursing faculty), 70.00% of the staff, 91.67% of the contract workers, and 71.27% of the students agreed to merge with National Pingtung University of Education. |
| July 13, 2011 | According to the resolution of the University Council, National Pingtung Institute of Commerce would merge under the conditions of the established policies, and the top priority of NPIC would be to draft a merger plan with NPUE. |
| January 10, 2012 | NPUE and NPIC held "The Ceremony of Signing the Contract of Strategic Alliance and School Merger" attended by officials of the Ministry of Education, leading officials of Pingtung County and Pingtung City governments, legislators, and representatives of local industries. |
| December 6, 2012 | NPUE and NPIC held a joint public hearing on the merger. |
| January 16, 2013 | NPUE and NPIC separately held university council meetings and the school merger plan was passed. The resolution stipulated that the plan would be submitted to the Ministry of Education. |
| January 18, 2013 | NPUE and NPIC held "The Ceremony of Submitting the School Merger Plan to the Ministry of Education." |
| January 28, 2013 | NPUE and NPIC submitted the merger plan and related meeting records to the Ministry of Education. From the resolution of the University Council of both schools, the proposed name of the new school was "National Pingtung University." |
| April 24, 2013 | The Ministry of Education formed an advisory committee to review college changes or suspensions in light of the merger plan. |
| May 22, 2013 | The Ministry of Education (MOE) reported to the Executive Yuan regarding the merger of NPUE and NPIC to become "National Pingtung University" and formed a preparatory team including representatives from the MOE and the two schools. |
| June 18, 2013 | The Ministry of Education held its first meeting regarding the merger to discuss the school's vision and development (including mid- and long-range plans), campus plans, and to draft its statutes. |
| August 30, 2013 | The Ministry of Education held its second meeting regarding the merger to confirm the school's vision and development, and to discuss issues dealing with recruitment and administrative integration. |
| September 3, 2013 | NPUE and NPIC held a series of speeches on the merger. Tsung-Po Lee, president of National Taichung University of Science and Technology, was invited to deliver a speech. |
| September 23, 2013 | NPUE and NPIC held another series of speeches on the merger. Kuo-Shih Yang, former minister of education, former president of National Chiayi University, and chair professor of Asia University was invited to deliver a speech. |
| September 24, 2013 | Officials from the Ministry of Education came to visit the two schools' campuses and held a third meeting regarding the merger. Topics discussed included issues related to spatial adjustment, allocation of resources, faculty and other personnel arrangements, expenditures and financial planning. |
| October 30, 2013 | The Ministry of Education held its fourth meeting regarding the merger and discussed issues related to new school statutes, president selection regulations, and important ordinances (including composition of the Teacher Review Committee and faculty promotions). |
| November 20, 2013 | The Ministry of Education held its fifth meeting in regard to the merger. The revised merger plan was confirmed by the preparatory team and approved to be submitted for review. |
| December 13, 2013 | The Ministry of Education held its second meeting regarding college changes or suspensions in the 2013-14 academic year. The resolution was that NPUE and NPIC would merge to become National Pingtung University starting from August 1, 2014. |
| December 25, 2013 | NPUE and NPIC submitted "The Final Version of the School Merger Plan and Appendixes" to the Ministry of Education. |
| January 2, 2014 | The Ministry of Education reported to the Executive Yuan regarding the merger of NPUE and NPIC to become "National Pingtung University." |
| April 8, 2014 | "The Merger of NPUE and NPIC" report submitted by the MOE was approved by the Executive Yuan on March 31, 2014, to be effective from August 1, 2014. |
| August 1, 2014 | NPUE and NPIC officially merged to become National Pingtung University. |
(Data Provider:Office of the Secretariat 資料提供單位:秘書室)